Here at Metador, we don't just focus on delivering innovative, high quality bespoke steel doors, but also on ensuring we have the knowledge, expertise and customer service to match. That's why we see your purchase as a journey. We'll guide you through every step of the way, from product enquiry and building specifications, to customising your doorset, adding ironmongery and arranging timely delivery. Below, we take a look at the journey you and your new doorset solution will go on.
Customer service
As soon as you get in touch with our experienced and knowledgeable team, we'll do all we can to make sure the buying process is as seamless and straight forward as possible. Whether this is your first or one hundred and first order with us, we'll make sure your needs and requirements are fully understood, delivered to schedule and to the Metador standard.
We regularly deal with customers from a variety of knowledge levels and scenarios. You may already know the type of door and specification you're looking for, or this might be the first time you've bought a security door and you're looking to find the perfect solution to meet a recently introduced legislation or requirement. Either way, our Estimating team will help find the ideal doorset solution for you. Whether it be a Defender Fireshield offering four hours fire protection, a Defender Clearguard for high usage and maximum visibility, or a Defender Safeguard fitted with louvre panels for ventilation, we've got you covered every step of the way.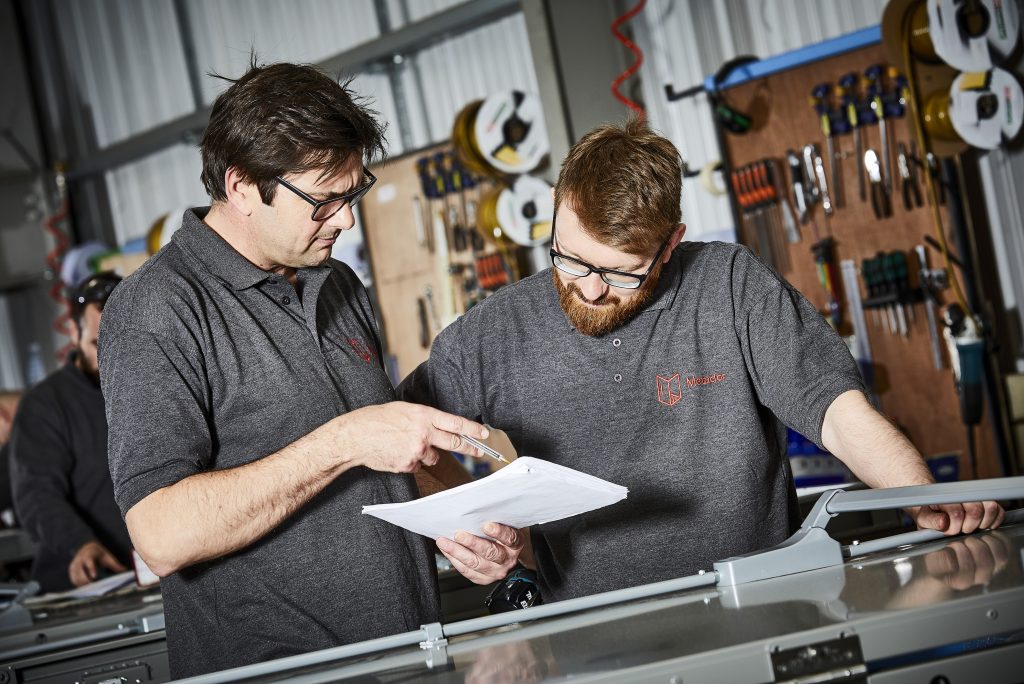 Door specifications and ironmongery
When we first started our business we fitted other people's doors, this gave us a great understanding of what works and what doesn't for builders, fitters and architects alike. We soon realised that no doorset on the market lived up to our exacting standards, so naturally we went one step further and designed one that did.
Our Defender range is the result. Manufactured with 1.5mm steel leaf skins and thicker galvanised (magnelis is available as an alternative) steel as standard, our doors are 56% stronger than our competitors regular doorsets. Combine this with a rockwool core for insulation, bolted corner fixings and a 2mm thick threshold, and it all adds up to a longer lasting, stronger security door.
The vast majority of our doors come as either a single or double door, with a range of width, height and structural opening sizes on offer. To match your surroundings and environment, you can choose from 240 RAL, BS standard or marine-grade powder coat finishes – take a look at our colour range for more.
Your decision on ironmongery will be next, which can have a major impact on the appearance and function of your door. There's a number of different aspects to consider here, with the most important being regulatory requirements, security specifications and budget. Often when ironmongery is mentioned, many people tend to just think of  locks or handles. While this is very much true, our range of ironmongery extends to panic hardware, high security locks and cylinders, vision panels, louvres, and much more besides.
Once our Estimating team and yourselves have advised and agreed on specifications and ironmongery, we will begin producing your quote as well detailing and confirming any necessary drawings. Next, we'll begin manufacturing your door!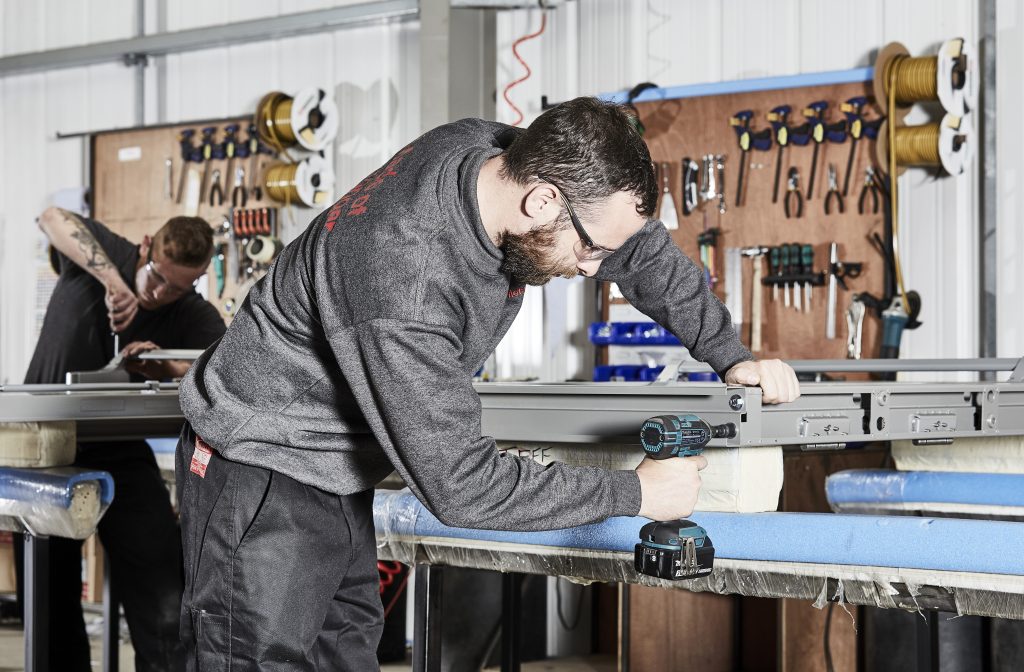 Production process
With each door being fully bespoke and made to order, we take pride in ensuring you are delivered the complete doorset solution to meet your requirements. The below outlines our manufacturing process, from 3D CAD modeling through to preparing for delivery.
3D CAD modeling of the doorset

Production of coding files for CNC machinery

CNC sheet punching to create flat patterns

CNC flat patterns folded to components – typically 20 – 30 per doorset

Components then assembled into sub-assemblies with Rockwool insulation

Powder coating of all sub-assemblies

Final assembly of doorset

Palletised ready for dispatch

Delivery
Our Dispatch team will get in touch on the day your order is ready to leave our workshop. Once your delivery address is confirmed, your palletised order will be passed on and picked up by our courier service who operate a next day service. Some areas of the UK are restricted to a 2-3 day service, so please check with us to ensure you receive your doorsets when you need them.
Installation
Your new order has arrived safe and sound, now it's time to put your security solution in place and begin safeguarding your property. While this can prove a time consuming and tricky process for many fitters, our range of Defender steel doorsets offer a simple installation process in a quick completion time of just 40 minutes. Whereas most security doors on the market take between 50 and 60 minutes to install, thanks to the design, rigid four-piece frame and 8 fixing points to choose from on each side of the door, our bespoke single Defender doorsets take 25% less time.
 Should you face any problems with installation, we're always on hand to help. While we don't install doors ourselves, we have appointed a trusted selection of independent door contractors throughout the country as Approved Metador Installers (AMI's). These installers are fully licensed and trained to fit our products. If you require installation, please speak to our sales team and we will put you in touch with your nearest AMI.
To assist you with installation, we have produced an eight-minute video and guide to show how to install our security doors.
The seal of approval
Within the security and building sectors, there's a number of must-have accreditations that provide assurances that manufacturers and products provide significant levels of protection, quality and service. We're proud to say that we're accredited by a number of these industry essential recognitions, including LPS 1175 and Secured by Design.
Our maximum security doorset, the Defender Xtreme, is accredited to LPS 1175 and has been put to the test against a variety of force, tools and machinery. This accreditation is the largest publicly available standard of its kind in the world and is one of the main elements of physical security specification across a range of sectors.
The same door can be delivered fire rated, and is also acknowledged by Secured by Design, proving the doorset provides an effective measure in preventing and reducing crime. Metador is accredited to ISO 9001 status. In addition most of our doorsets are Part M compliant and all are CE Marked as standard.
As well as the industry recognised accreditations outlined above, our full range of products are manufactured here in the UK and put through stringent in-house quality procedures and safety checks at our North East workshop.
To start your journey to a new steel door, please get in touch with our experienced and dedicated team today. We'll be more than happy to provide advice and support with any queries you might have about investing in a new security doorset.
Share This Article: