The growing steel security door manufacturer continues investment to round off a successful 2019

Metador, the Middlesbrough-based steel security door manufacturer, has complimented its year-on-year growth with the delivery of a new, hi-tech CNC punch machine to their expanding factory.
The Trumpf TruPunch 5000 machine arrived at Metador in late-October 2019 and is the latest development in the expansion of the business. The new equipment will increase capacity, improve efficiency, and decrease lead times on the production of the company's best-selling steel security, emergency, and fire-rated doors.
Improving efficiency
Tristan Mallinson, Technical Director at Metador, said: "The Trumpf TruPunch 5000 is a premium machine with incredible capabilities. It is the fastest punch machine available and will allow Metador to continue to meet our customers' requirements as efficiently and quickly as possible.
"The machine will reduce our timescales for producing larger doors, as well as doubling the capacity at a time when the demand for Metador products is at its highest level."
The arrival of the Trumpf machine comes after Metador purchased a new brake press in June 2019 in order to meet increasing demand.
The new additions round off a successful year for the business, having also expanded their factory space by 50% following the recent purchase of a neighbouring premises.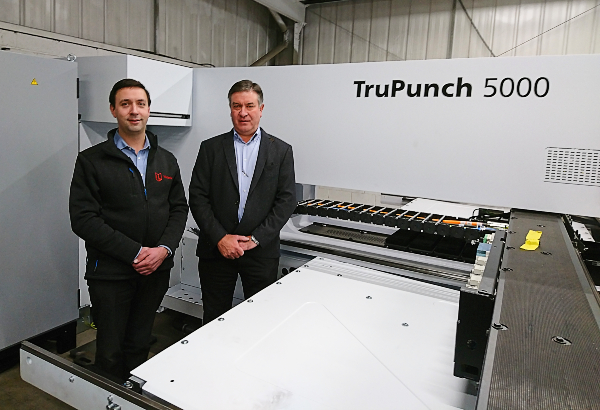 Success in 2019
Metador's Managing Director, Simon Evershed, said: "2019 has been a very busy year at Metador, with us achieving a 40% increase in manufacturing capacity so far. The recent expansion of our manufacturing space and addition of new machinery will help us to cope with the unprecedented demand and increase our capacity even further.
"The next year will see Metador continuing with the innovation that has driven the business forward, giving our customers a greater selection of products that meet the criteria they are looking for. We will also increase the certifications and fire ratings on our products to ensure complete peace of mind. This is all whilst offering an exemplary level of service to our clients."
Simon added: "Not only will this expansion drive improvements for our customers, we will be able to add to the strong team we have here at Metador and also enhance both our premises to ensure we have a comfortable place of work for all our employees.
"This is a very exciting time to be part of Metador as we aim to become the leading steel security door manufacturer in the UK."
For more information about Metador's steel security and fire-rated doors, visit the Products page or contact our team today.
Share This Article: