Offering up to four hours protection for a range of commercial, industrial and leisure environments, our Defender Fireshield provides safety reassurance as well as superior strength. However, in order to keep your fire door solution in tip top condition and perfect working order, there's a few things you'll need to do to ensure this life saving doorset remains up to the job.
Correct installation
As with all our security doors, installation is key. With over 20 years' experience in the security door industry, we understand what works and what doesn't for installers and builders alike. With this knowledge and time served experience, we have been able to design and manufacture doors that are not only up to the task of safeguarding properties, but also make installation as straight forward as possible.
With a straight-forward and relatively short installation time, there should be no reason why your Defender Fireshield isn't installed correctly. For a guide to installation, please see the video below of one of our Defender Xtraguard doors being fitted.
When we started our business, we fitted other people's doors, so we understand your time is precious. Fitting a door should not cause stress or worry and should be a seamless process. If you require a quick installation, please get in touch with our sales team. They'll be able to put you in touch with an Approved Metador Installer who are fully licensed and trained to fit our products.
Regular maintenance
While the Defender Fireshield requires little maintenance after installation, it's good practice to make regular checks on correct operation, as well as clearing any debris between the door and the frame, and ensuring that the door is free from obstruction.
On a monthly basis, make the following checks:
• Check all fixings are secure
• Lubricate door hinges with light machinery oil
• Check condition of rubber weather seals
• Wash surface of door and frame with warm soapy water and wipe dry
• Lubricate locking points and cylinder (if supplied)
• Lubricate panic exit furniture and ensure all parts are in a satisfactory condition
If your door features fire rated glass in the form of one of our vision panels, it's important to keep the window free from marks, dirt or cracks. These vision panels come in a range of sizes and shapes, improving lighting and appearance, meeting building regulations and adding valuable health and safety precautions.
For any spare parts, accessories or ironmongery, please get in touch.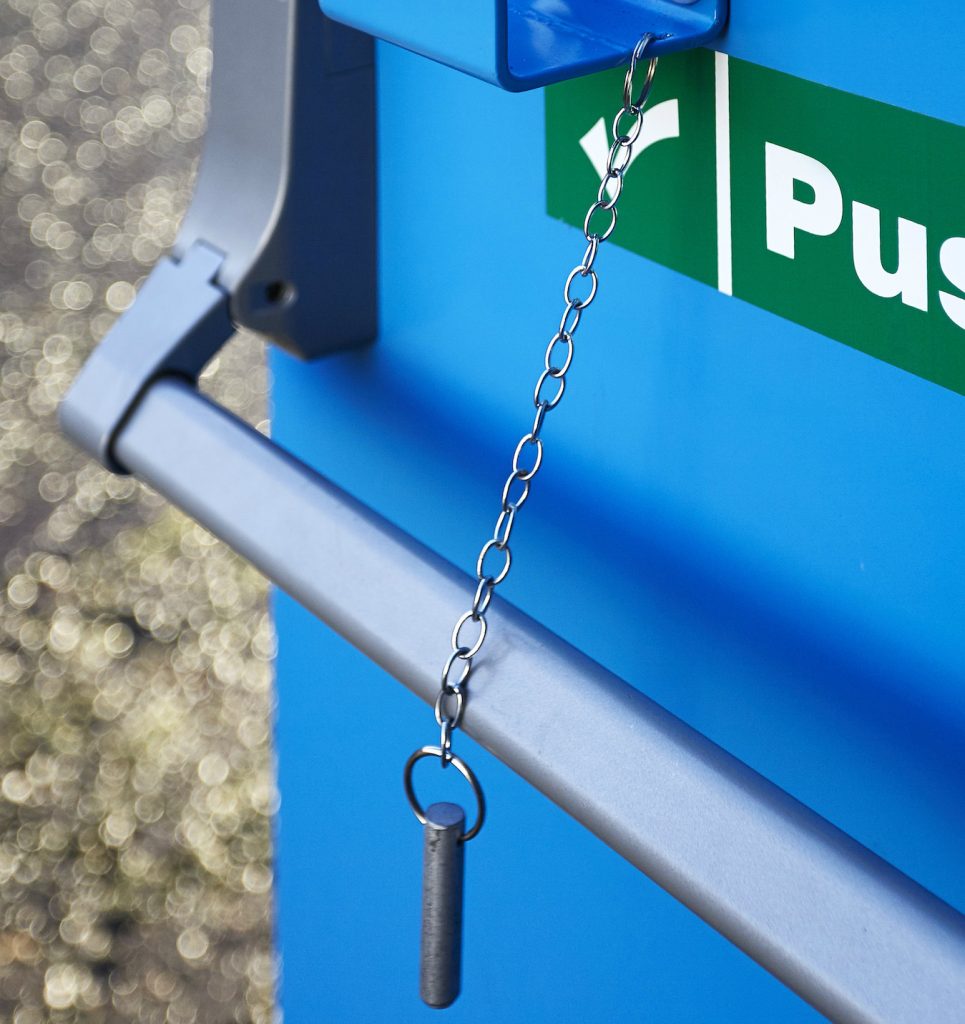 Maintaining paint finish
Weather protection is provided with fully galvanised steel used throughout the manufacturing of the Defender Fireshield. Our two types of paint finishes, standard polyester powder coating and marine polyester powder coating, offer 1 and 2 year guarantees respectively. Both of these are subject to cleaning and maintenance as outlined below and in our Operation and Maintenance Manual.
Powder coatings can be treated like most other paints and will benefit from regular washing. The aesthetic life will be prolonged by being polished and waxed with goof quality car shampoos or waxes. The frequency of washing depends largely on the environment in which the doors are situated. For coatings in low risk exposure areas, all paintwork should be washed down every three months. In areas of high risk or marine environments, paint should be cleaned on a monthly basis.
Please refer to our Operation and Maintenance Manual for full recommendations. You should have received this with your order, but if you require a new copy please get in touch.
Test security devices
Ensuring the security aspects of your Fireshield are working correctly is also crucial. Whether this is inspecting a piece of panic hardware or testing your chosen lock and cylinder, making regular checks will help you fix or replace devices before problems occur.
Providing the above maintenance is followed and accurately record, and the correct installation has been carried out, we offer a 15 year guarantee on our full Defender range. In addition to this, the Defender Fireshield has achieved Secured by Design status and has also been tested at Exova Warrington Fire to BS EN 1634 – 1:2008, providing further quality and security reassurances.
Take a look at the Defender Fireshield product page or Lloyd's Register case study for more information about our fire rated solution. If you'd like to find out more about maintenance, installation or testing, please get in touch with our experienced and dedicated team.
Share This Article: