Following our recent Guide to Ironmongery, we now take a look at vision panels and discuss the benefits and advantages they offer to your steel security door and commercial property.
Vision panels are fitted into a range of doors for four main reasons: building regulations, safety, lighting and appearance. Here we'll look at each of them and more in more detail.
Building Regulations and Minimum Zones of Visibility
Part M of the Equality Act 2010 sets out the minimum requirements to ensure that a broad range of people are able to access and use facilities in buildings other than dwellings. Door leaves and side panels that are in excess of 450mm wide must be provided with viewing panels that give a zone of visibility between 500mm and 1500mm from the floor level.
The vision panel may be a single panel or may be interrupted between 800mm and 1150mm to accommodate a horizontal mid rail if necessary. The requirement applies to all entrance doors and to internal doors where vision is appropriate.
Doors to accessible entrances should be accessible to all, particularly wheelchair users and people with limited physical dexterity. Such doors will satisfy Requirement M1 or M2 unless it can be argued otherwise in the Access Statement, for example, for reasons of security.
The tall narrow vision panels and combination narrow vision sets meet these requirements.
Glazing
There are many types of glass and glazing available for vision panels depending on the type of protection you require, such as fire, security, safety, thermal properties, acoustic or a combination of these purposes. We are happy to advise and specify the correct glazing for every requirement.
Glazing Film
We offer a range of glazing film types, including bomb blast protection, safety and security, solar control and energy reduction, low E and insulation, UV fade reduction, privacy/decorative, manifestation/graphics and radiant light films.
Sizes and Styles
We provide square, rectangular and circular vision panels in many sizes, tailored to meet the exact needs and requirements of your property. These differing sizes and styles can also improve the appearance of your property, but more about that a bit later.
Safety
At the end of the day, protecting and safeguarding your property is your ultimate priority and it's likely to be the main reason you're reading this now! Vision panels provide added safety by allowing you to see who is approaching your door prior to opening.
They also provide the opportunity to see into rooms and buildings from the outside, again adding security reassurance without compromising personal safety. Being able to see and be seen when operating machinery also has its significant health and safety advantages, as well as allowing for communication from a safe distance. Vision panels are fitted on the inside of security door, which prevents any possible forced entry fears through fixing points and also improves the door aesthetically.
Additional Light
Another significant benefit of vision panels is they allow additional light to pass into a room. This may enable natural light into a workplace, improving working conditions and reducing lighting and electrical costs.
It's a proven fact that natural light improves human health and positively impacts on productivity and performance. There's also the theory that natural light improves worker's satisfaction and mood – and as they say, a happy worker is a productive worker!
Appearance
We all like things to look pleasing, and vision panels do just that to security doors. Vision panels can help reduce the industrial and metallic look that is often associated with security doors.
They can also help to make buildings feel and look more welcoming, reducing the often imposing and security conscious feel (while in fact keeping security at a maximum) – this might be particularly important in schools, education centres and hospitals.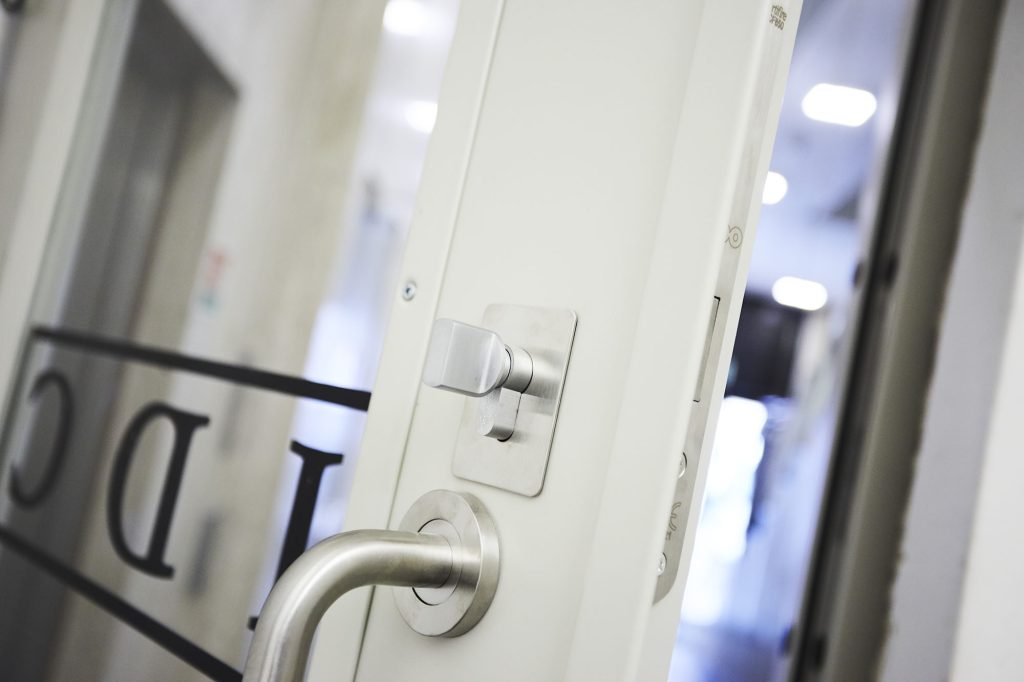 We're always on hand to offer advice and specifications to ensure you find the doorset solution to meet your needs. To find out more about vision panels and choosing the right ironmongery for your steel security door, get in touch with our experienced and passionate team.
Share This Article: