It's pretty much a given that retail shop premises will always be a target for theft and break ins, but there's a significant improvement you can make to your security measures that goes way beyond flimsy shutters and weak window locks. That improvement is steel security doors, and while these are commonly associated with factories and industry orientated businesses, they can also serve as a vital part of a retail premises security measures.
For nationwide chains such as supermarkets and clothing stores, ensuring your premises are secure and protected is essential to maintaining confidence and safety awareness amongst staff, while importantly discouraging potential thieves and burglars.
Even at a nationwide chain, crime costs money, and the last thing you need in today's tough economic climate is to lose assets and profits. Whether this is stock being stolen or the added cost of repairing damage after it's too late, you don't want to be dealing with either of these unwanted scenarios! So, act now rather than react later.
Similarly, for independent shop owners, their premises can be the result of years if not decades of commitment, dedication and hard work. At the same time, the stock and assets inside these premises are critical to the business' future. But what better way to protect you and your staff's future, potential livelihood and reputation than a Metador Defender steel security door? Let's run through the benefits of our steel security doors for retail premises.
External Protection
Our range of steel security doors are fully customisable, ensuring you choose the exact door to meet your business' requirements. This means you can tailor the ironmongery and features of your door to perfectly match your building and needs.
The Defender Xtreme is our bespoke doorset solution that features galvanised material throughout, 2mm stainless steel threshold, 1.5mm leaf skins and a mineral wool core. This door provides significant security protection, and is ideal for deliveries and staff entry, as well as serving as an emergency escape when fitted with panic hardware. Most commonly, the Defender Xtreme is fitted as an exterior door, providing an outstanding level of protection against physical attack and other common burglar methods.
Our Defender Xtreme LPS 1175 is even approved by the UK Police, Home Office and several local authorities. With its Secured by Design status, this security door has been specifically tested and accredited to demonstrate product effectiveness in preventing and reducing burglaries through forced entry.
Watch our Defender Xtraguard in action:
Fire Safety
The Defender Fireshield is built to withstand blazing temperatures up to 1100°C for over four hours, providing safety reassurance when you need it most. This would allow time for you to implement fire procedures, quickly and calmly evacuating staff and customers in the process.
This door has been independently certified by internationally recognised Exova Warrington, to BS EN 1634-1. And where most fire rated doors offer fire protection for 30 or 60 minutes as standard, the Fireshield has been put to the test for more than four hours! That's the Metador standard.
In practical terms, the Defender Fireshield provides high levels of safety by stopping the spread of fire when closed and allowing for an escape when opened. Its main purpose is to restrain smoke and to restrict fire advancing into other areas – essential to preventing further damage to stock, machinery or important documents.
Internal Security
Vision panels can improve your door aesthetically as well, coming in a range of styles and shapes, while allowing for you to easily and safely see who is approaching your door prior to opening. Options of using toughened, laminated, double glazed or anti-bandit glass to provide further security measures are all available.
Codelocks ensure only permitted users can enter certain areas, which is particularly useful for stock rooms, back-offices and areas where access for customers needs to be restricted. These pass codes should be updated regularly to allow for maximum security. Combining a code lock with others locks such as conventional dead locks can further strengthen internal doors, making it harder for forced entry.
Our Defender range can be produced in over 180 colours, keeping your brand identity and colour scheme in check.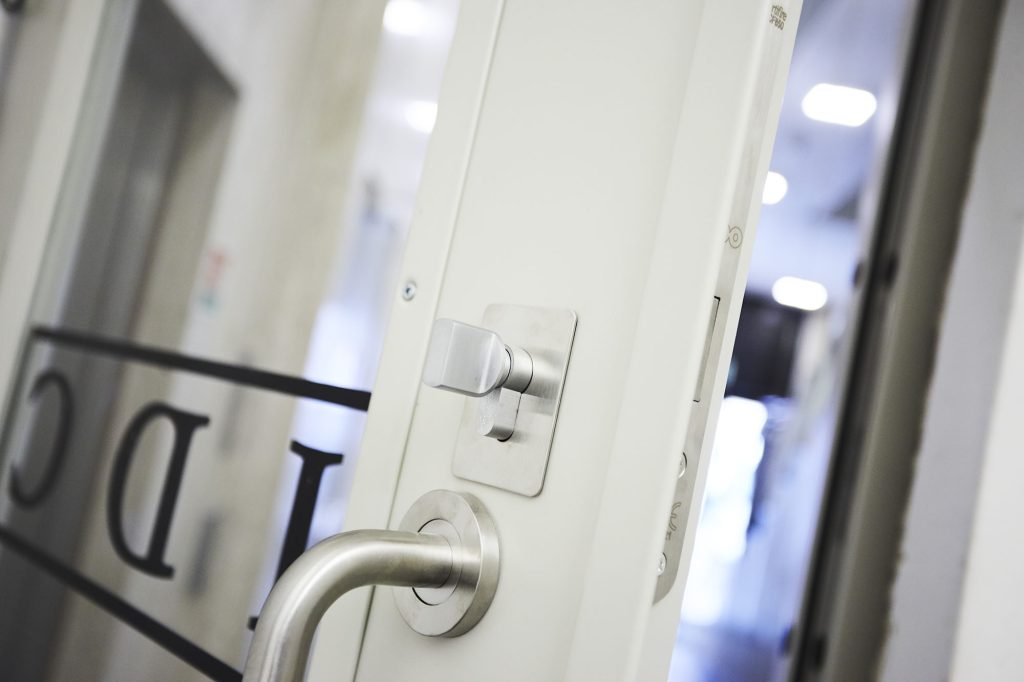 Comply with Legislations
With ever increasing legislations and requirements that businesses are required to comply with, it's essential your access doors tick all the relevant boxes. Such examples include fire safety legislations and Part M of the Equality Act 2010. Part M sets out the minimum requirements to ensure that a broad range of people are able to access and use facilities within buildings. In practice, this means that due regard must be given to any specific needs of likely building users that might be reasonably met.
Accreditation and Standards
As well as the industry recognised accreditations outlined above, all of our doors are put through stringent in-house quality procedures and safety checks.
Our products are CE Marked, ensuring we have complied with the essential requirements of European health, safety and environmental legislations. We've also been assessed to ISO 9001 standard, proving our ability as a manufacturer to consistently provide products and services that meet the needs of customers and stakeholders.
If you'd like to know more about steel security doors and ironmongery for your retail property, get in touch with our experienced and passionate team today.
Share This Article: